Official news release for Chrissy Rouse by Zoë Burn Motorsport Media Services
CHRISSY Rouse crossed the line 13th in his first ever Pirelli National Superstock 1000 Championship race after being forced to start from the very back of the grid.
Less than two weeks after inking a deal with the Cecs Mission Racing team, the Geordie race ace grabbed his first championship points as the season opened at Silverstone on Sunday.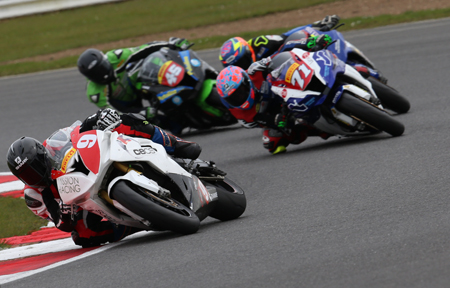 Aboard the Cecs Mission Racing BMW, Rouse had only had a small amount of testing early last week at Snetterton before the opening race,  and after two days of mixed weather conditions the former Triumph Triple Challenge and Superteens champ had been playing down his chances as he made his 1000cc debut.
Qualifying in 24th position ahead of Sunday's 11-lap race, Rouse hoped to break into the top 15 but admitted that he would be happy with a top 20 in his first race on the big bike. But disaster struck when a mix-up over the start time meant he was late arriving to the grid and missed the warm-up lap. As a result he was ordered to start dead last in 43rd spot.
A solid getaway helped him leapfrog more than a dozen riders in the first few corners, and by the time he crossed the line after the first lap he had made up 19 places and was up to 24th, his original start position. From here it was all about moving as high up as he could.
As the race moved on, Rouse quickly got to grips with the bike and started to push his way further up the order. By Lap nine he was up to 15th which is what he had hoped for, but he still had something left in the tank. A lap later he passed another two riders and moved up to 13th, holding the position to the chequered flag.
"I'm really, really happy with that result, especially after I had to start dead last!" he said. "It was a mix-up, we didn't get the call to go up to the grid and when we got there we had missed the warm-up lap which meant I had to start at the back.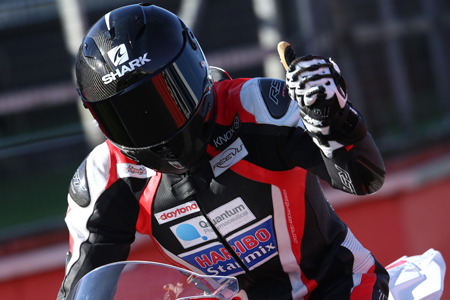 "I didn't let it bother me. I had too much to think about to get stressed about it so I just put it to the back of my mind and decided to just try and get as far up as I could. I was actually pretty relaxed, I had a bit of a problem with the launch control but it was okay, I got away alright and made a few places up in each of the corners to get back up there.
"Once I got up to about 18th, I could see a group of bikes up ahead and I realised I could get some points so I just pushed on. Once I was up to 13th I knew I didn't have the laps to get any higher but I am happy with that. To finish 13th from 43rd is better than I could've hoped and I know that had I got way from 24th then I could've had a good run up towards the front.
"I really enjoyed the race. The bike is brilliant. It's fast, it's just great – the team has done a brilliant job getting it ready in such a short time and we've got a lot more work to do. I'm feeling great. Two weeks ago I'd written off any chance of even racing this year so to be here now with points in my first 1000 race is a bit of a dream really!
"I want to thank the team for giving me this chance, and I'm pleased I was able to reward them with some points. There was no pressure from them or from myself and I haven't even been training properly for a few months since having surgery on my shoulder. I think I'm now probably going to be more fired up than ever for the next race. We're hoping to get to the official BSB test at Oulton and then once we've done a few more things I think we should be in a good position for the next round at the end of April. This has been a perfect start to my season."