Official news release for Chrissy Rouse by Zoë Burn Motorsport Media Services
CHRISSY Rouse crossed the line sixth in Sunday's Pirelli National Superstock 600 Championship race as rain once again stopped play at Knockhill.
The Geordie race ace enjoyed a hard-fought scrap with five other riders for 14 laps around the Dunfermline circuit, until the race was stopped early as heavy rain fell.
The weather had already played its hand throughout the weekend. On Friday it was a glorious hot and sunny day, and Rouse managed to end first qualifying in eighth place, and hoped to build on this during Saturday's qualifying to better his grid spot.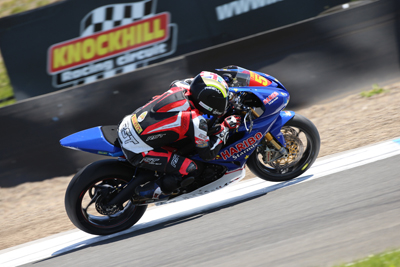 But Saturday morning brought severe weather, with monsoon-like rain which damaged some of the track surface, leading race chiefs to axe second qualifying. As a result, Rouse lined up eighth on the grid for what was to be a 22-lap race.
After a hot and sunny morning, small spots of rain started to fall as the bikes lined up on the grid, although it wasn't heavy enough to warrant wet tyres. At the green light he got a slow start, dropping a couple of places and leaving him with a bit more work to do in his bid to climb up the order.
By the end of the first lap he was running ninth and made a move on Malachi Mitchell-Thomas for eighth moments later, before passing Jordan Weaving to move into seventh at the hairpin. But it wasn't to be an easy race, as Mitchell-Thomas and Weaving fought back.
At the end of the third lap he had dropped to ninth and was coming under pressure from Bradley Ray behind, as the four riders jostled for position. But Rouse was feeling confident and soon realised the hairpin was his favourite place to pass, searing past both Mitchell-Thomas and Weaving on Lap Seven.
The scrap continued for another few laps, with Ray once again coming into play. But on Lap 13, Rouse was determined to make amends and stuffed his Team HARIBO Starmix Triumph up the inside into the hairpin.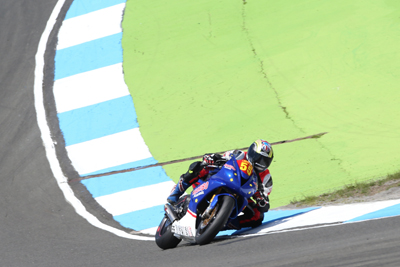 Ray, who had been ahead of him, ran out wide and dropped a handful of places and then a lap later Rouse made a move on Mitchell-Thomas up to sixth. Seconds later the red flag came out as the rain grew heavier, and a result called, giving Rouse another sixth place finish.
"I didn't get the start that I wanted because I was hoping to get away with the front group and it didn't happen," he said. "But it ended up being a great race, definitely the best one I've had so far this year.
"My main place to overtake was down at the hairpin, and I made all of my best moves down there. I had a lot of friends and family here and I knew they were all down there watching so I think it may have spurred me on.
"The last lap was probably my best, the conditions were getting worse and I certainly risked a lot more there. I was happy it went my way and that it was flagged when I was at the front of my group because it was one of those races where it could've went any one of five or six ways. I've enjoyed it, I'm happy with the result"
*Rouse now lies eighth in the championship chase on 39 points. His next race will be at Brands Hatch in Kent over the weekend July 17-19, 2015.