Official news release for MotoDex Performance First BMW by Zoë Burn Motorsport Media Services
THE MotoDex Performance First BMW team celebrated its first ever MCE Insurance British Superbike Championship points after rider Robbin Harms finished a strong 12th in the opening race of the year at Donington Park.
The great Dane carved his way through the field from 21st position to cross the line 12th after a heroic ride which saw him get stronger and stronger as the 20-Lap race wore on. Team-mate David Johnson meanwhile battled back from a tough qualifying to cross the line 24th.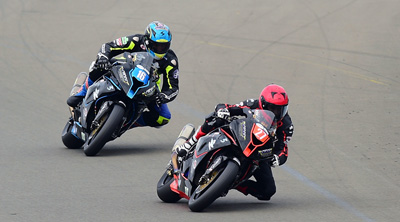 Harms, who joined the Sheffield-based outfit for the final two rounds of 2014, had been making big steps forward in every session this weekend. Aussie Johnson had been struggling a bit after missing out on pre-season testing, and was left on the back foot after qualifying in 32nd spot.
But as Easter Monday's first race roared into action, both riders got away well, and both began to progress through the field. Harms was feeling comfortable with his BMW machine and started to push harder in the final few laps, charging through to 12th in the closing laps. Johnson meanwhile rode around a few set-up issues to finish 24th.
In the second race, Harms just missed out on another point as he crossed the line in 16th place, while Johnson finished 26th
Robbin Harms: "I had a really good race, my pace was good and I felt very happy on the bike. It is a very good result but for me today, position wasn't important. It was about me feeling comfortable and confident with the bike, I could've been 10th, 12th or 14th and I'd feel the same – as long as I feel happy with the bike and the direction we are moving in, then that's what matters at this point. It's a good place to start and we can now work to get stronger and higher up as the season moves on."
David Johnson: "It's been a hard weekend but we're pushing on and I'm confident we can get there very soon. To see Robbin getting up to 12th in the first race and then having another strong one in the second pushes me on because I know we can do it. I just need a bit more time to get used to the bike and I think we should be in a better position when we get to Brands Hatch."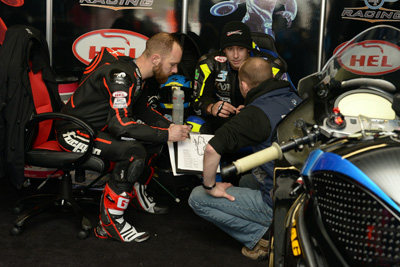 Team owner Tony Dexter: "I'm just ecstatic. After two terrible years, two floods and a relocation from Germany to England, to come here to the first round and not just get in the points but to get a 12th position is just amazing.
"Robbin rode really well and the team have been incredible. Everyone has worked so hard and they all really deserve this result.
"Davo hasn't had as good a weekend but you need to remember Robbin has had a head start on him as he joined us last year. Davo arrived back in the UK from Australia just a few weeks ago so he hasn't had the time to get used to the bike yet, and we've still got a few things to work on with his set-up but I'm certain once we're there, he will be up there fighting with Robbin.
"I'd like to take this opportunity to thank the team for all of their hard work as well as our sponsors Four Anjels, Simon Lane at Hel, Trudie Stait Solutions Ltd, Rock Oil, GBRacing and everyone else involved with MotoDex Performance First BMW".
*Round Two of the MCE Insurance British Superbike Championship will be held at Brands Hatch in Kent over the weekend April 17-19, 2015.