Official news release for Crank Racing by Zoë Burn Motorsport Media Services
A brand new motorcycle racing team will make its debut this weekend as it embarks upon its first season racing in the UK and Ireland.
Crank Racing will launch its assault on the UK club racing scene in the Thundersport GB series, and will also have a large presence on the Irish road racing scene this year, with former Irish Road Racing Superbike champ Derek Sheils spearheading the charge.
Sheils, of Dublin, will run in Crank Racing colours as he tackles selected Irish events, while the team will enter Thundersport GB with ex-British 125 rider Simon Low from Twickenham.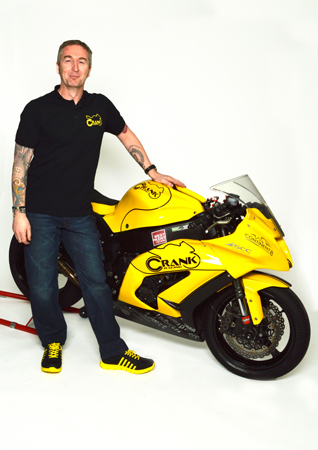 Crank Racing has been set-up by Kent-based Irishman Mark Grimes, co-owner of the former RG Moto squad which finished third in the No Limits Endurance series in 2014. He is also heavily involved with an established TT and road race team, and with a successful career in the sport gaming sector, he's a man who has spent most of his life immersed in sports.
Crank Racing is an ambitious new project for Grimes, and is more than just a racing team. It has been created to make a positive impact on young people's lives. First of all, it provides financial support for a number of students through partnerships with two colleges – one in South East England and the other in Ireland as well as two Young Offenders Institutions in England and Ireland.
The team is spearheading a new form of apprenticeship and offering financial assistance to help students complete their college courses while gaining trackside work experience as a race mechanic, giving them a better chance of employment in the motorsport sector. The initiative matches students with experienced professionals and race mechanics that will mentor them throughout the season.
Mark Grimes, Team Principal: "This is a very exciting time; Crank Racing is the result of a lot of planning and comes after a successful year with RG Moto. The whole ethos behind Crank is to go racing, do it well and to give something back at the same time.
"This coming season gives us the opportunity to step up to a new division and race in the very competitive Stock GP class in Thundersport GB and also run a bike and rider on the Irish Roads. The team I have put together has a lot of experience with some very talented people.
"The most exciting part of Crank Racing is, with the support of our generous sponsors, the investing in  talented students to help them with possible careers in motorsport, and also investing in the lives of some youth offenders and give them a real second chance, which we all deserve."
Derek Sheils, Irish roads rider: "It's fantastic to have been given this opportunity to be part of the Crank Racing team and flying the Crank Racing flag in Ireland. Partnering with Mark is really exciting the team has very high ambitions, and it's great to be part of it for 2015.
"The Crank outfit is racing both in the UK and Ireland but is 100% Irish! My goals are to win races in a consistent and safe manner. I would like to win the Adelaide masters championship in both the Supersport and Superbike class, score podiums and wins in a consistent fashion at national road racing level."
Simon Low, Thundersport GB rider: "I'm really happy to have teamed-up with Crank Racing this year. The unique team which Mark has put together means it's not just a very exciting and competitive team, but it will be giving something back.
"This is a big year for me, I'm moving up to the 1000cc machine so it's going to be a learning curve but I'm excited. The team is great, they're very supportive and I'm looking forward to learning more and improving every time I get out there. I can't wait."
Crank Racing makes its racing debut this coming weekend as the 2015 Thundersport GB Championship roars into action at Brands Hatch, Kent.
*For more information about the team visit www.crankracing.co.uk