Official news release for Aaron League by Zoë Burn Motorsport Media Services
Charlotte-based motorcycle racer Aaron League is set to become the youngest ever American to tackle the Manx Grand Prix next month. The 23-year-old will join Lancashire-based Rea Racing to pilot a Suzuki SV650 in the Newcomers B and Supertwin classes.
League will make his debut on the Isle of Man at this year's Manx Grand Prix ahead of a planned assault on the 2015 Pirelli National Superstock 600 Championship, as he bids to break onto the British short circuit racing scene.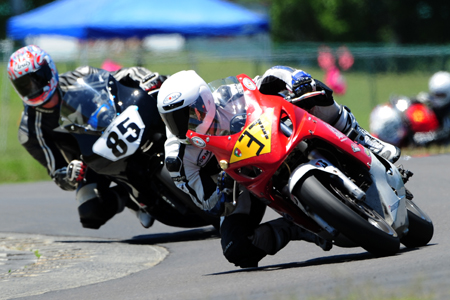 He began racing in the US Championship Cup series at the beginning of 2013, and so far this year has racked up 12 podiums and six race victories in the Lightweight division, and is currently the points leader of the GTL class on a Suzuki SV650.
However he has always wanted to tackle the gruelling 37.73mile Isle of Man Mountain Course, and this year has been given the chance to contest the event. The Manx Grand Prix runs as part of the Isle of Man Festival of Motorcycling which includes the Classic TT, this year set to feature some of the biggest names in road racing including Michael Dunlop, John McGuinness, Bruce Anstey and Guy Martin.
"I've been wanting to race on the Isle of Man for years now, and I finally created the right opportunities to make it happen," said League. "It's not going to be easy, and the work is going to continue full-stick until the very end of the fortnight, but I am absolutely up for the challenge.
"Huge thanks go out to Ben Rea and Rea Racing for setting me up with a top-notch supertwin. With a great machine under me, I'll be able to focus solely on learning the course and getting around quickly and safely."
Following the Manx Grand Prix, League will be pursuing a ride in the UK's National Superstock 600 Championship.  Considered by many to be a hotbed of upcoming superbike talent, his aim is to break into what he believes is the best domestic racing series in the world.
"The Manx is my priority at this point, but I do want to use this as a potential springboard into the British series because I think the UK's racing scene is the best in the world, and as I still plan on pursuing the short circuit route, racing in the UK is vital to the direction I want my racing career to go.
"I want to take this opportunity to thank my sponsors for the continued support and guidance-  Cornerspeed/Cornerspin, Willow Downs Performance, Spyke, LS2 Helmets and Zoeburn.com"
Aaron is still in search of a title sponsor for his Manx campaign – for more information on how you or your company can get involved, he can be contacted directly at aaronleagueracing@gmail.com
To learn more about Aaron visit:  www.majorleaguemotorsport.com, and follow him on Facebook and  Twitter