Official news release for Morello Racing Kawasaki by Zoë Burn Motorsport Media Services
THE Morello Racing Kawasaki team is delighted to announce that John Ingram will step-up to the MCE Insurance British Superbike Championship, replacing Peter Baker on the squad's Superbike.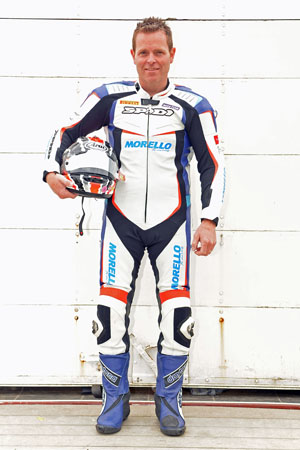 With Baker no longer part of the team, Wigan rider 'The Ram' will make his return to the UK's premier motorcycle racing series from the next round at Snetterton this coming weekend. Ingram is stepping-up from the Pirelli National Superstock 1000 Championship where he contested the opening two rounds for the team.  He will be replaced on the Superstock machine for the Snetterton round by Hungarian rider David Juhasz, a former Hungarian Superstock Champion.
Ingram has raced in BSB previously when he entered the final two rounds in 2007 on the SMT Yamaha where he recorded a best finish of 17th at Donington Park. Now, as he prepares for his return, he is looking forward to helping develop the Morello Racing Kawasaki Superbike.
John Ingram: "I'm over the moon to be given this chance, in fact I was a bit shocked when Steve asked me if I would ride the Superbike, it's such a great opportunity for me. I want to help move the bike forward for Steve and the team because they've all worked so hard this year.
"My aim at Snetterton is to just get a feel for the bike and then start to move it on from where it's been so far. I want to do a better job, and I believe I can. Basically we've got to get out there, see where we are and look to get further up the order as soon as possible. My first aim is just to get a point, and then on from there. I have to thank Steve and everyone at Morello Racing for this opportunity, and I hope I can give them the results they deserve."
Steve Buckenham, Team Owner: "I'm delighted to have been able to get John on the Superbike. He's a very good rider and brings a lot of experience. We've all got the same aims, which are to bring the bike on, getting it closer and closer to the sharp end as the season rolls on.
"Obviously we are disappointed that Peter is no longer with us, but we wish him well for the future. Now we need to concentrate on helping John get the job done. He's really excited and I'm really excited to see how keen he is. We're looking forward to Snetterton and hope this will be the big turning point in the season for Morello Racing."
John Ingram will make his Superbike debut for the team this coming weekend, June 13-15, 2014 at Snetterton in Norfolk.