Official news release for Halsall Racing Kawasaki by Zoe Burn Motorsport Media Services
THE Bolton-based Halsall Racing Kawasaki team ended the 2013 MCE Insurance British Superbike Championship on a high with rider Lee Costello taking a second place in Sunday's first race at Brands Hatch.
Costello just narrowly missed out on his first BSB win after an epic battle at the Kent track, while Australian team-mate Josh Waters had a strong weekend and has regained his confidence after a tough rookie season.
The weekend got off to a flying start for the duo as they quickly got to grips with the wet track during Saturday's qualifying session, both making it through to Qualifying Three and both subsequently qualifying on the second row, with Josh fourth and Lee sixth.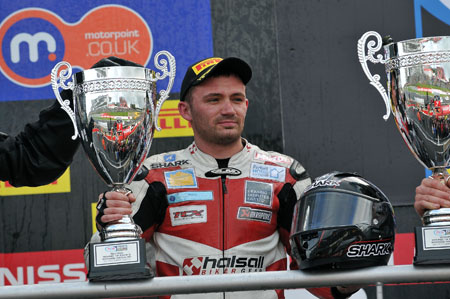 Both riders made good starts, with Waters picking up a place in the first couple of corners and then making a move past Shane 'Shakey' Byrne into second on Lap Two. But Byrne soon took it back and a lap later he was passed by Alex Lowes and pushed back to fourth where he remained all the way to the flag. Costello also enjoyed a great race as he put up a strong fight to cross the line ninth.
As a result of their laps in Saturday's race, Josh lined-up seventh and Lee 14th for Sunday's first race. Earlier heavy showers had dried up and the race was to be a gamble of tyre choice, with Josh opting for dry rubber while Lee went for wets.
The wet choice turned out to be the one, as the Bolton rider made a searing start, scything his way through and up to third by the second lap. Sitting in third for a couple of laps, he passed James Westmoreland and James Ellison to take the lead on Lap Five. Ellison passed him on Lap 15 but Costello took it back a lap later. From here he led all the way until the final corner when he was pipped by a flying Josh Brookes and took second place, his best result of the year and his first ever British Superbike podium.
Waters meanwhile was left frustrated by his tyre choice at the start when he was unable to get any grip, but as the track dried was starting to make his way back through when he crashed out on Lap Nine.
The heavy rain returned for the final race and this time the whole grid was out on wets, with Lee starting from seventh and Josh from 13th. This time it was Josh who got the best start, crossing the line seventh at the end of the opening lap while Lee dropped back to 11th.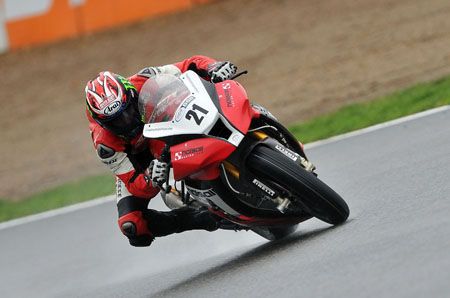 Josh spent most of the race battling around sixth and seventh place, and although he made his way through to fifth at one point, he was unlucky to lose out in the final two laps and ended the race eighth. Lee meanwhile struggled to fight back from a slow start and crossed the line 13th.
Lee Costello: "If anyone had said to me earlier this weekend that I'd be on the podium I'd have laughed them out of the paddock. But that race was just perfect. When I realised most people were on intermediate tyres and I was on wets I thought that was it, I thought the job was over. I just knew I had to get a good start and once I got out in front I pushed and pushed as hard as I could. It was a great race, and while I wished I could've held onto the lead that bit longer I'm thrilled with this result. I've got to thank Martin and everyone in the team who have helped me get here today and hopefully this will be the start of many more podiums in the future."
Josh Waters: "This has been quite a good weekend for me, I'm feeling pretty happy right now. Firstly it was good for me to get into Qualifying Three and then we had a really good first race on Saturday. Things didn't go quite to plan in the second race because I took a gamble with tyres and it was the wrong one. I was on slick tyres on a drying track so when I hit a patch of water the bike just went. The last race wasn't too bad either, but I struggled a bit with grip and ended up dropping a few places. At the end of the weekend I'm happy, I'm starting to feel confident again and after the tough season I've had, this has been the perfect way to end the year."
Martin Halsall Team Owner: "The whole weekend has just been mega, and the highlight was definitely that second race, it was just epic. Qualifying was good and in Saturday's race Josh rode really well – it was good to see him up there enjoying himself and getting a solid fourth place. Then we had Race Two and Lee was just amazing. I've always said to Lee this was a long season and would be a big learning curve, so for him to end it with a second is fantastic. With Lee's progress over the year and to see how well Josh has come on, I couldn't ask for more. It's been phenomenal."
MCE Insurance British Superbike Championship Brands Hatch Race 1
1. Josh Brookes, Suzuki
2. Alex Lowes, Honda
3. Shane Byrne, Kawasaki
4. Josh Waters, Halsall Racing Kawasaki
5. PJ Jacobsen, Suzuki
6. Tommy Bridewell, Yamaha
9. Lee Costello, Halsall Racing Kawasaki
MCE Insurance British Superbike Championship Brands Hatch Race 2
1. Josh Brookes, Suzuki
2. Lee Costello, Halsall Racing Kawasaki
3. James Ellison, Yamaha
4. James Westmoreland, BMW
5. Chris Walker, Kawasaki
6. PJ Jacobsen, Suzuki
DNF: Josh Waters, Halsall Racing Kawasaki
MCE Insurance British Superbike Championship Brands Hatch Race 3
1. Josh Brookes, Suzuki
2. Alex Lowes, Honda
3. Shane Byrne, Kawasaki
4. Tommy Bridewell, Yamaha
5. James Ellison, Yamaha
6. Jon Kirkham, BMW
8. Josh Waters, Halsall Racing Kawasaki
13. Lee Costello, Halsall Racing Kawasaki
MCE Insurance British Superbike Championship Brands Hatch Championship Points
1. Alex Lowes, 643
2. Shane Byrne, 636
3. Josh Brookes, 621
4. James Ellison, 589
5. James Westmoreland, 564
6. Ryuichi Kiyonari, 522
13. Josh Waters, 96
19. Lee Costello, 48
*Images by Jon Jessop